20 Aug

The Ministry of Health and Social Welfare presents its institutional website
Transparency, visibility and guaranteeing the population greater access to information on ministerial activities, in general, and on COVID-19, in particular, are some of its objectives.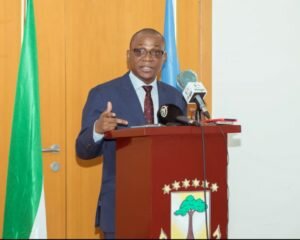 On August 19, 2020, the Ministry of Health and Social Welfare (MINSABS) presented its institutional website at a ceremony held at the ministerial headquarters. "The objective of the Ministry is to make health information available to all Equatoguineans in real time, with content on all General Directorates, and with a special section dedicated to Covid-19, since it is the current emergency.
The page will gradually and dynamically enrich itself, "explained the Deputy Minister of Health and Social Welfare, Mitoha Ondo'o Ayekaba.
The main objectives of the website are to guarantee transparency, visibility and access, by the population, to ministerial information.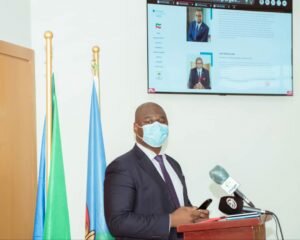 "It is an easy-to-use, visually clean website and a reference tool to know the data of the pandemic and other statistics on the health and sanitary situation in Equatorial Guinea of ​​general interest," said Otto Conrado Okenve Krohnert, Director General of the company responsible for the implementation and execution of the institutional website.
At the event, the latest situational report of the COVID-19 pandemic in the country was presented, dated August 13, carried out by the Technical Committee for Surveillance and Response to COVID-19 (with the support of the World Organization of Health (WHO)). Among other data, it is worth highlighting the 49,215 PCR tests performed, the 4,892 positive cases, of which 2,713 recovered and 83 died. A total of 429 health professionals were affected, of which 3 died.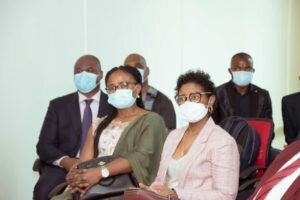 The presentation ceremony was attended by, among other authorities, those responsible for the WHO team, the Secretary of State for Planning of the Ministry of Economy, Finance and Planning, Mariluz Eseng Osa Mangue, the Secretary of State in charge of relations with the Economic Organizations and International Financiers of the Ministry of Economy, Finance and Planning, Mar Bonkanka Tabares, the Director General of National Content of the Ministry of Mines and Hydrocarbons, Jacinto Nguema Owono, the Director of Social Projects of Marathon Oil Company, Bonifacio Manguire Nlavo, that of Noble Energy, Antonino Ondó, and the Director of Medical Care Development International, Doctor Carlos Cortés Falla.