02 Jun

Third national campaign repair of obstetric fistulas
Technicians from the Reproductive Health Program and the FRS religious health foundation presented this Thursday to the Vice Minister of Health and Social Welfare, Mitoha Ondo Ayecaba, the plan for the third obstetric fistula repair campaign.
This is the plan that is marked within the framework of implementation of the activities in the field of elimination of said pathology, as one of the guidelines to improve the sexual and reproductive health of women, designed in the annual action plan for the execution of the project for "Improvement of Access and Quality of Prenatal Care and Emergency Obstetric and Neonatal Care in Equatorial Guinea", focused on the Organization of the reparation campaign, with the following objectives:
Transfer the women detected with obstetric fistulas to the Bata Regional Hospital, train the technical team that will intervene during the campaign, carry out exploration sessions for the women for confirmation by the team of experts in fistula repair techniques, as well as intervene them surgically.
What is the Obstetric fistula? Obstetric fistula is one of the most serious and tragic injuries that can occur to a woman during childbirth, due to an abnormal hole between the birth canal and the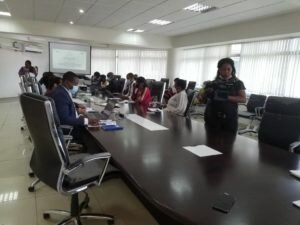 bladder or rectum, it is caused by the prolongation or obstruction of labor without timely medical treatment and makes women lose control over urine, feces or both, and over time leads to chronic medical conditions that ultimately lead women to suffer from depression, social isolation and deepening of the state of poverty.
Under the supervision of the General Director of Public Health, Sanitary Prevention, Traditional and Natural Medicine and the Coordination of the Technical Team of the National Reproductive Health Program and the FRS, the national campaign to eliminate obstetric fistulas in Equatorial Guinea will be carried out with full involvement of the Provincial Delegates of Health and Social Welfare, the Technical Directors of the Hospitals and the District Focal Points, who will collaborate with the Mobile Teams established and the health personnel.
Note that fistitula treatment is free for women who suffer from this disease.