22 Jun

The OYALA University Center for Gynecology and Fertility announces the first pregnancy achieved through in vitro fertilization in Equatorial Guinea.

This is the first pregnancy achieved through in vitro fertilization in the entire history of the country. The 33-year-old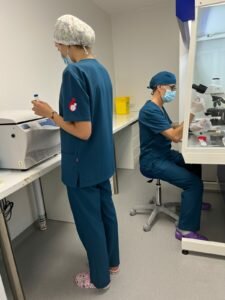 patient, with secondary sterility and tubal obstruction, underwent an embryo transfer on June 5, subsequently giving a positive pregnancy test.
With this achievement, the city of Oyala reaffirms itself as the city of reference in assisted reproduction on the African continent, having a center specialized in comprehensive health care for women with the necessary technology to apply the most advanced techniques in its treatments.
The OYALA University Center for Gynecology and Fertility was inaugurated in December 2020 by His Excellency Teodoro Obiang Nguema Mbasogo, President of the Republic and Head of State, with a gradual opening of its diagnostic and treatment services in Gynecology, Fertility and Obstetrics, Paediatrics, General Medicine, Family Medicine and radiodiagnosis. All this guaranteeing maximum privacy, security and confidentiality.
His Excellency Vice Minister of Health and Social Welfare, Mitoha Ondo Ayekaba, sent a message of congratulations to the Center: "We congratulate the team at the center and the Ministry. With this milestone, we are positioning the Republic of Equatorial Guinea to achieve state-of-the-art medical care for our population."
For its part, from Centro Oyala they assure that "they will continue working to maintain this innovative project and bring happiness to Guinean families creating a future from Africa".
In March of this year, fertility treatments began, this being the first successful treatment, which positions the OYALA University Center of Gynecology and Fertility as the best option in health services related to fertility treatments in the country and the sub region.
This center is led by Doctor Ignacio Palomo, president of the Arpa Médica Group in Madrid (Spain) and is made up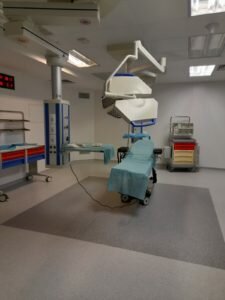 of a leading medical group in the field of medicine, especially in the areas of gynaecology, assisted reproduction and family health.
Dr. Palomo has expressed his satisfaction with this news and assures that "we will continue to share more positive news like this in the coming weeks."
Thanks to the unique legal framework provided by the Government of Equatorial Guinea, the Oyala Center was created with the aim of offering an affordable, personalized, comprehensive health service specialized in assisted reproduction without the need to leave Africa, which allows its patients to have healthcare with unprecedented levels of quality, safety, efficiency and innovation in the region.