16 Mar

The National Technical Committee for Surveillance and Response to COVID-19 reports on the epidemiological situation from February 15 to March 15 in Equatorial Guinea
Under the direction of MINSABS and with the support of WHO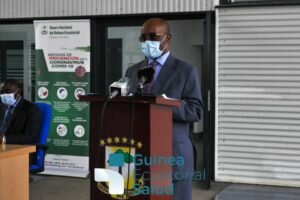 The National Technical Committee for Surveillance and Response to COVID-19 in Equatorial Guinea, under the direction of the Ministry of Health and Social Welfare (MINSABS) and with the support of the World Health Organization (WHO), organizes a press conference (the eighteenth during the pandemic) to present updated epidemiological data on the evolution of COVID-19 in the country, corresponding to the period between February 15 and March 15, 2021.
To date, 101,955 PCR tests have been performed, of which 6,603 have been positive cases of COVID-19. The cumulative positivity rate is currently 6.5. This rate was 4.4 in the last 7 days. The confirmed cases were isolated in hospitals, hotels, and homes. There have been 5,994 recovered and 100 deaths, representing a fatality rate of 1.51.
In recent weeks, there has been a notable increase in confirmed cases and, consequently, in the rate of positivity due to the second wave. "On March 14, 2020, the first case of coronavirus arrived in our country. It has been a year of hard work, of scientific and organizational challenges and of great emotional toughness. COVID-19 exposed health workers and their families to unprecedented levels of risk ", recalled the Minister of Health and Social Welfare, Diosdado Vicente Nsue Milang.
One year with the coronavirus
The Minister has taken advantage of the meeting with the press to list the main actions undertaken by the National Technical Committee during this pandemic year. Specifically, the strengthening of the country's diagnostic capacity, Epidemiological Surveillance and specialized human resources, the acquisition of medical equipment and protective material, the availability of medicines and improvement of the protocol with the inclusion of Remdesivir, the optimization of the communication strategy and the development and implementation of the Vaccination Plan against COVID-19.
Along these lines, it has been reported that in the current first stage of the vaccination plan, a total of 5,765 people have been vaccinated, of which 800 have already received the second dose. It is planned to vaccinate, during this first period, a total of 50,000 people, belonging to the priority groups. Specifically, personnel who provide direct health care to patients, people at high risk of mortality from COVID-19, security personnel, personnel who work at the entrances of the country in contact with travelers, public service people and with an average of more than 15 daily contacts. To this end, accompanying measures have been adopted in the different departments and ministries.