20 Oct

Launch of the new WHO Cooperation Strategy in Equatorial Guinea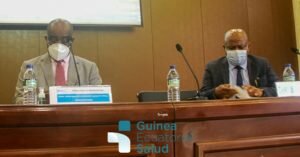 The Minister of Health and Social Welfare, Diosdado Vicente Nsue Milang, has opened the meeting to prepare the new Cooperation Strategy of the World Health Organization (WHO) in Equatorial Guinea.
For three days, national experts, cadres and technicians will work on the Strategy that will cover the period 2022-2026 to guarantee universal health coverage, strengthen health security and manage emergencies, fight against communicable and non-communicable diseases and promote health during all stages of life.
Despite the absence of a Strategy, Minister Nsue Milang has appreciated the constant support of the WHO "contributing to the strengthening of the programmatic framework and health management, as well as the fight against diseases in our country."
WHO has supported national health programs, the preparation and implementation of the first National Health Development Plan (PNDS), disease control, supports the Epidemiological Surveillance System, the organization of the national response to the pandemic derived from COVID -19, as well as emergency situations such as the 7M tragedy in Bata.