16 Sep

Equatorial Guinea participates in a pan-African study, published in the journal Science, on the SARS-CoV-2 pandemic in Africa

The prestigious scientific journal "Science" has published a pan-African study on how the SARS-CoV-2 pandemic developed on the African continent. This great research article has had the participation of the Ministry of Health and Social Welfare of Equatorial Guinea, the Baney Research Laboratory and the Swiss Institute of Tropical Medicine. It has been an arduous work of coordination and, due to its relevance, once again positions Equatorial Guinea at the scientific forefront of the African continent and the young Institute for Public Health Research (INISAPGE).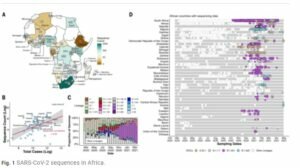 The article describes genomic epidemiology using a data set of 8,746 genomes from 33 African countries and two overseas territories to show that epidemics, in most countries, were initiated by imports predominantly from Europe and decreased after introduction. early on international travel restrictions.
This phylogeographic analysis shows, throughout 2020, a changing pattern of viral diffusion through and towards Africa. In other words, as the pandemic progressed and transmission continued, increased mobility caused the emergence and spread in many countries of the African continent of mutations and variants of the virus. Therefore, it concludes that Africa should not be left behind in the response to the global pandemic, since, otherwise, it could become a source of new variants.
To read the full article, click here.